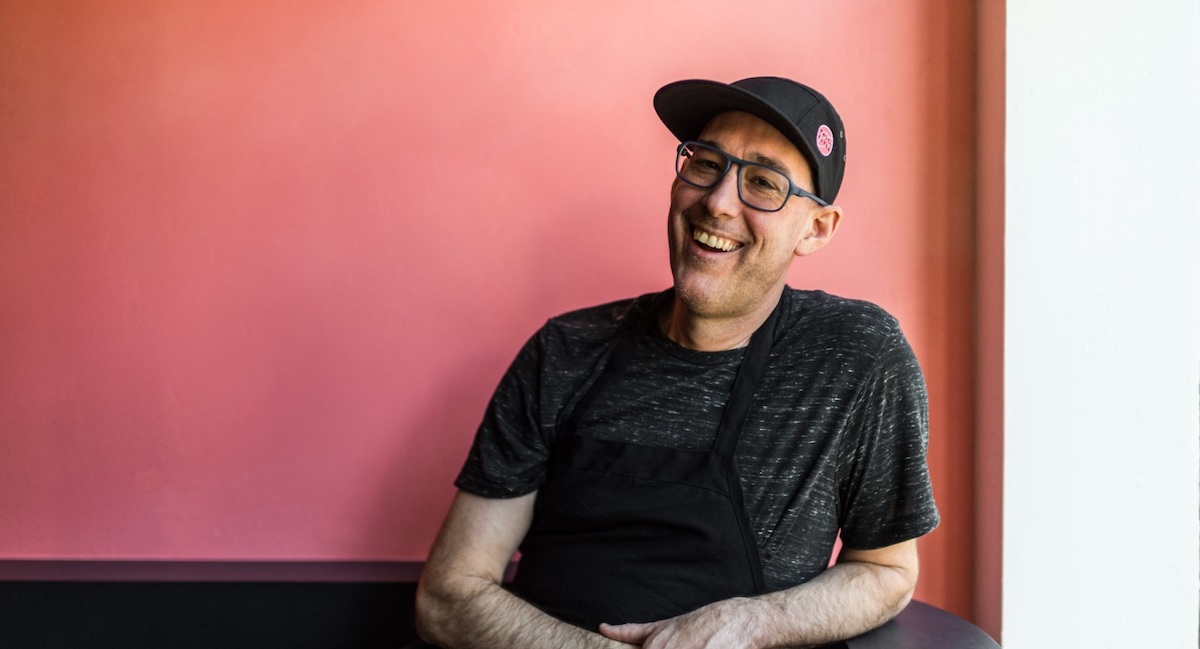 One of the country's most acclaimed chefs arrives in Cambridge
Chefs
Mark Ladner, the Michelin-starred force behind Mario Batali's former flagship Del Posto, is opening an Italian plaza in Harvard Square.
---
One of the country's most acclaimed chefs in Italian cuisine is coming home.
Long before he was stacking (and stacking and stacking) sheets of fresh pasta and bolognese for his 100-layered lasagna, the iconic dish he perfected for 12 years at Del Posto, Mario Batali's flagship product in New York, chef Mark Ladner grew up in Belmont, Massachusetts, and cut his teeth at Olives, the Charlestown legend who put star restaurateur Todd English on the map.
Now Ladner, a Michelin-starred chef himself, is heading to Harvard Square to open a restaurant filled with pasta, steaks and Italian snacks – tentatively called Bar Enza – in September. The project, which Ladner describes as an "Italian version of a brewery," is a partnership with Boston's Lyons Group, the hotel industry players behind chic spots like Scampo, Sonsie and Rochambeau. It will inhabit the legendary space inside the Charles Hotel which previously housed two other Italian locations: the revered Rialto by Jody Adams and the Benedetto by Michael Pagliarini, which recently got started.
How does it feel to inherit the address? After a long career which also earned him a James Beard Award and a rare four-star review from the New York Times, you might think Ladner has little to fear. In fact, though, there's still at least some of the sweat-flop anxiety that arises when a headline act plays out for the hometown crowd.
"Worse than failing in New York would be failing here," Ladner says. "Especially with all the accolades, there is a lot of pressure. The last thing I want to do is disappoint. I know there are a lot of sophisticated diners in this city, and I can't take anything for granted.
In many ways, Bar Enza is the culmination of a career that actually started in Harvard Square, where a teenage Ladner got his first job at a restaurant in a pizza place. Of course, it was a very different scene in the '80s: he fondly remembers passing all the spiky-haired punks who used to hang out in the "Pit," seeing Grammy-winning Tracy Chapman, on the street as a student of Berklee, and to be scolded by Boston-born Leonard Nimoy when he accidentally ran over a gunshot while the Star Trek the actor was in town to film a movie.
"It was a highlight in life," Ladner laughs.
Food wise, more importantly, the local highlight was when Ladner was in the kitchen at Olives, his first job outside of Johnson & Wales Culinary School. There he cooked alongside Barbara Lynch, Marc Orfaly, and other future Boston luminaries, all heavily influenced by English – who was, before becoming almost as well-known as a Vegas-loving party animal, an awesome leader and mentor. "He was such a talented and extremely creative cook at a time when that wasn't necessarily the lifeblood of much of this country's cuisine," Ladner says.
After helping open Mario Batali's Babbo, Ladner kicked off his long and laudable run as executive chef at Del Posto, which was one of the country's most important gourmet restaurants. It was of course before multiple allegations of sexual assault led to the vile fall of Batali (and ultimately Del Posto recent formwork). Ladner left Del Posto a year before reports surfaced to launch Pasta Flyer, a short-lived fast food project. However, he cannot part with a professional period that has so defined his career, even if the association is much more complicated than it was.
"It's a strange thing," Ladner says, when asked how he deals with his experiences with Batali now. "Someone who is 80 percent a super humanitarian and 20 percent a questionable number – it's hard to metabolize by throwing 80 percent good for 20 percent bad. Obviously, I don't want to condone any behavior or anything like that. He was a real force for good most of the time, and then when we partied too much, maybe he wasn't. It's a shame, but it was a calculation.
Compared to devices on display to the public like English and Batali, both of which have adopted the camera-light action that comes with being a celebrity chef, Ladner has kept a low profile for someone whose food is held in. so highly regarded, preferring to "let the work speak for itself." But Bar Enza will certainly be a stopover for the chef, who opts for an "airy and grandiose café atmosphere" with "different types of experiences" available in the spacious interior and patio. Think nibbles and cocktails at the bar, a main dining room filled with antipasti, pasta (including that famous lasagna) and crudo, plus a 'steakhouse component' featuring cuts of organic and fed beef. grass from a small Massachusetts cattle farm paired with vegetables from the year-round Farmer's Market in the plaza just outside the Charles Hotel.
In other words, somewhere between Del Posto's very high experience and Pasta Flyer's flirtation with fast food, you'll find Bar Enza.
"The pendulum's swing is starting to balance out now that I'm 50," Ladner says. Bar Enza will be a "restaurant definitely for adults, but not necessarily fine cuisine". On the contrary, Ladner wants to create "an environment where people feel comfortable to come, to gather and to feed on food".
In fact, Ladner says that on a personal level, he's never been more motivated by the fancy restaurant fanfare than all those years at Del Posto might have you believe. He is more inspired, he says, by simpler dishes cooked perfectly and with passion.
"It's not about pomp and circumstance, it's about putting good food for your body in your hole in the cake, and celebrating local agriculture in the general philosophy and ideology of cooking. Italian, "Ladner says. "This is what I have focused my entire career on. It's a bit late for me to change now.