Kansas football is blasting 'country roads' in practice this week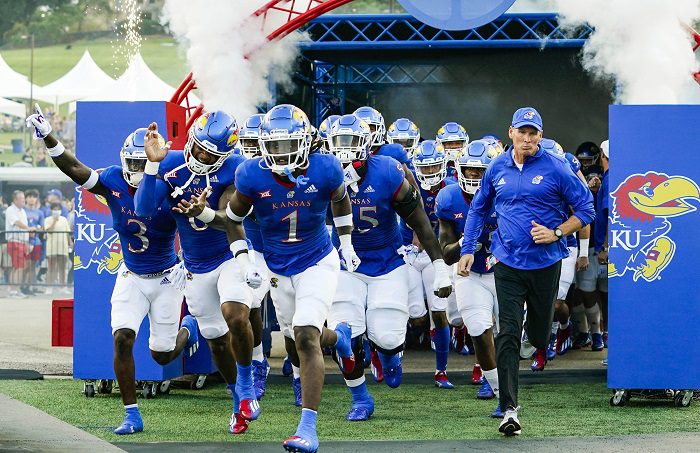 Preparing for a road game in the Big 12 can be a difficult task, especially when it comes to heading to a different time zone to face West Virginia in a night game environment.
The Jayhawks prepared for the road environment in a relatively unique way this week, and they'll definitely be used to hearing a John Denver classic by then.
KU have struggled to win in Morgantown, going 0-6 so far, but they will certainly be ready for what lies ahead on Saturday night.
"Shout out to Jimmy Le, our video coordinator. He's already worked out in advance and every opponent fight song they're going to play on the road and what they're playing in their stadium is queued up and ready to go so we're getting ready for an environment that we think we are going to go into," KU offensive coordinator Andy Kotelnicki Told The Kansas City Star Wednesday.
"Everyone is pumped up. They (the KU coaches) tried to keep the sound loud so we could lock ourselves in, so we could communicate at a high level with all the noise," KU senior security Kenny Logan Jr said. , after practice on Wednesday.
"We want to make sure we click on every aspect of good communication."
Kansas quarterback Jalon Daniels was impressive in Week 1, completing 15 of 18 passes for 189 yards, a touchdown and an interception and rushing for 29 yards on three carries and a score. In Week 2, he seems to be spearheading a thwarted offer, and he doesn't mind the song choice this week at practice.
"Honestly, I don't even pay attention when it happens. I'm really just in practice mode," Daniels said. "It's not just this song itself, we also have a lot of crowd noise to simulate how it will be in the game. It's a closed stadium from what I heard. They said it's "It was supposed to be loud when we're there. We just try to put ourselves in a game situation in training so that when we go there we can play our game."
"Their front seven is good. They are able to move. They are very good at trying to twist an offense. We have to be able to go out there and do what we are able to do.