Aspiring country music star Megan Moroney clarifies SEC allegiance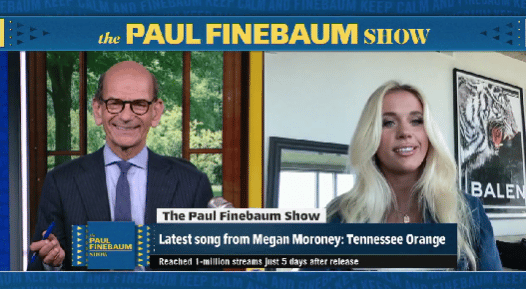 Megan Moroney, a country singer best known for her hit song "Tennessee Orange," made some interesting comments on "The Paul Finebaum Show" Tuesday.
For those who don't know, "Tennessee Orange" is a song about Moroney, a Georgia native, and alum, falling in love with a Tennessee fan. She notes in the song that wearing Tennessee orange is considered a sin in the state of Georgia. Don't get mad just yet, Georgia fans though, Moroney has made his allegiance clear.
When Finebaum asked if she was still a Georgia fan, Moroney replied, "Oh yeah. I'm planning on going to the Tennessee-Georgia game and I'll be in Georgia red. Moroney added that she "will not be wearing the Tennessee orange in Athens."
Finebaum laughed at the irony of Moroney singing "Tennessee Orange," while dressed in a black and red outfit. While the fictional version of Moroney might agree to wear orange, it seems the real Moroney has no intention of doing so.
Tennessee takes on Georgia in Athens on Nov. 5, and you won't have to guess which side Megan Moroney is shooting for in this game.
Great visit with Megan Moroney… Dawg fans don't get too excited when you see her wearing red on stage at Tennessee Orange this fall. pic.twitter.com/UYN9HAqzhY

— Paul Finebaum (@finebaum) September 27, 2022